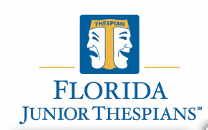 "Individual Events" are performance and technical events that students from each troupe may enter into competition at their local District Festival. Each troupe may create its own criteria for deciding which students will represent their school in Individual Events. Each District has its own formula for deciding how many Individual Events a troupe may bring to its local District Festival, and in how many Individual Events a student from that troupe may participate. This formula is based on the size of both the District and the limitations of the venue in which it hosts these events.
Qualifying Individual Events from each District are invited to perform at the annual FSJT State Festival. Florida State Junior Thespians currently allows each troupe to register up to 8 superior-ranked Performance Events and up to 4 superior-ranked Technical Events. (In the event a troupe does not have enough superior-ranked events to fill this slate, exceptions can be made for up to four excellent-rated events to attend the FSJT State Festival.)
Performance event categories are: Monologue, Duet Acting, Ensemble Acting, Solo Musical, Duet Musical, Small Group Musical, Large Group Musical, Pantomime, and Improvisation.
Technical event categories are: Set Design, Costume Design, Publicity Design, Scene Writing, and Makeup Design.
*lnduction fee per student = $12.00 General piece rules:
The selection must be drawn from published musicals written for the theater. No original works, medleys, or screenplays are allowed. The selection may contain dialogue and each participant must be actively involved in the musical selection.
All material should be presented as if within the full context of the performance of the play.
The performer MUST use non-vocal musical accompaniment which can be live or taped.
No costumes may be worn.
Hand props may be used if integral to the scene. Integral is defined as a prop that is physically used by the actor.
Not to exceed five (5) minutes.
Informational meeting for students will be held Thursday August 30th after school until 5:15pm.